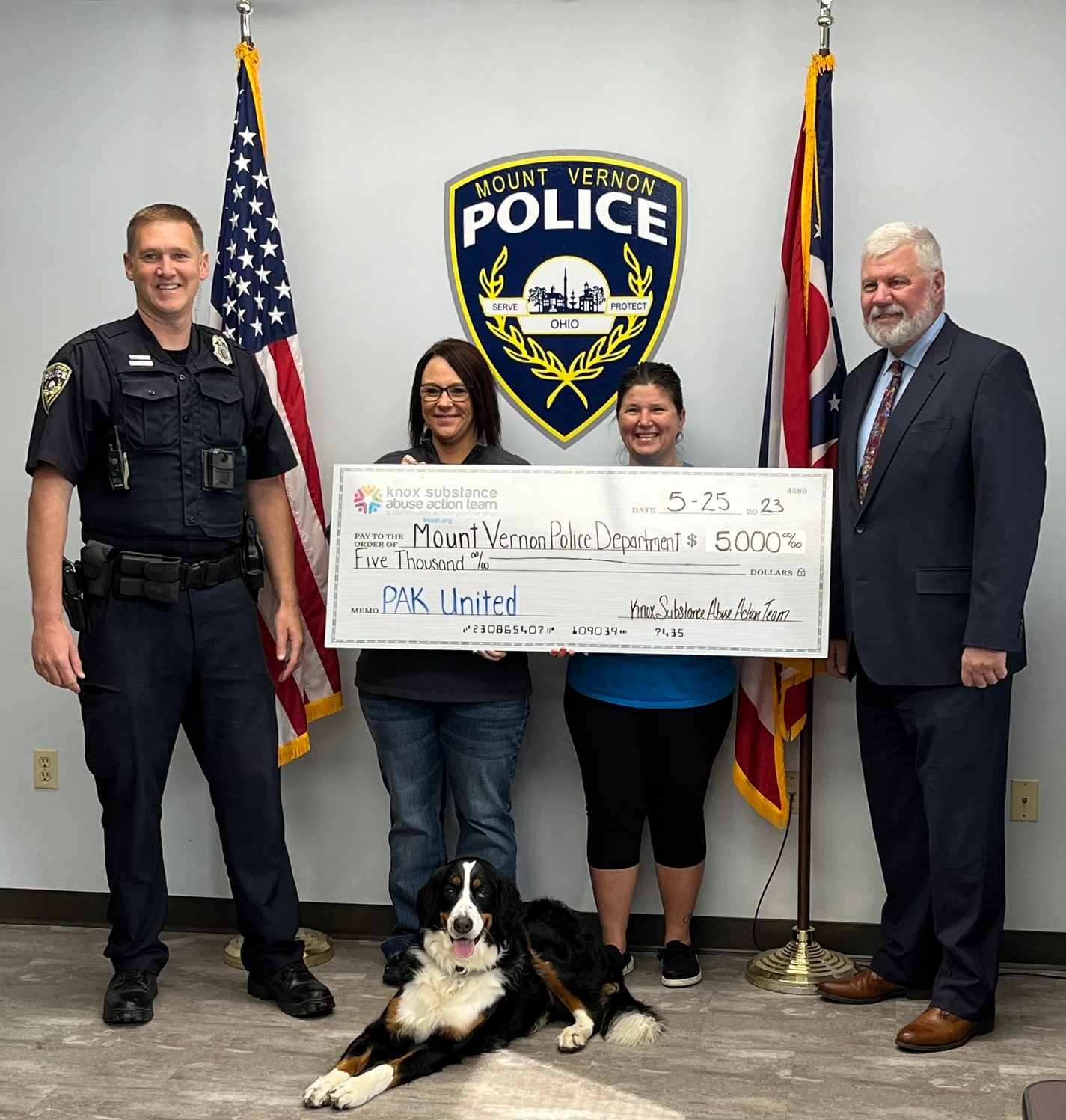 Check presentation by KSAAT members to the Mount Vernon Police Department. From left to right: Patrolman & School Resource Officer Jeremiah Arstrong, KSAAT Executive Chair Andrea Rees, KSAAT Community Committee Chair Amy Smart, Chief Morgan, and Nova
5/26/23 - The Knox Substance Abuse Action Team (KSAAT) presented the Mount Vernon Police Department's PAK (Police and Kids) United Program with a $5,000 check on Thursday, May 25, 2023. The donation will support the ongoing efforts to engage local youth in fun activities to build relationships between law enforcement and youth. Since its inception in 2021, PAK United has hosted kickball, bowling, softball, dodgeball and movie night events reaching hundreds of local students. 
According to SAMHSA (Substance Abuse and Mental Health Services Administration), effective prevention focuses on strengthening protective factors to reduce the likelihood of substance use. 
"KSAAT is dedicated to preventing and reducing substance abuse among youth. PAK United is a unique program strengthening protective factors by building trust between youth and law enforcement, connecting students to their community, increasing self-esteem, and providing a positive environment for social interaction with peers," said KSAAT's coordinator, Tina Cockrell from Knox Public Health. 
KSAAT formed in 2011 in response to community concerns about substance abuse. The coalition is comprised of concerned parents, community leaders, teens, local organizations, the recovery community and more. Funded for KSAAT is through the CDC's Drug Free Communities grant and is coordinated by Knox Public Health. To learn more about how to get involved visit KSAAT.org. We are all a part of the solution!