It's National Health Center Week and we are here to toot our own horn. (TOOT! TOOT!) Health Centers are a vital part of many communities and without them, quality care that is still affordable would not be available for everyone. 
The goal for the week is to raise awareness and understanding about health centers—what they do for their community and patients. We work hard to secure federal funding for our centers and provide primary care for everyone in the community, especially low-income and uninsured groups of people. Here in Knox County, we are even different (in a good way!) from our health center neighbors in nearby counties because we can offer public health services thanks to our unique relationship with Knox Public Health. Our mission—Healthcare for Everyone. 
About Us:
We are patient-centered, providing various types of medical, dental, and counseling care.
All patients are accepted, regardless of their insurance status - offering to accept insurance and self-pay patients who can apply for the sliding fee scale. We are a preferred Medicare provider, as well.
Our doctors, nurses, counselors, and support staff are incredibly talented. We pride ourselves on providing the best comprehensive and compassionate care. 
We are meeting the need for care within the community and creating safe havens for those that may not know where to go to receive care. Gaps are also being closed for patients who live beyond the borders of Knox County - we will treat anyone and do not have any residential guidelines. 
Health Center Services include:
Treatment of illness such as earaches, colds, sore throats, sinus infections
Management of chronic disease such as diabetes
Physical exams for work, school and sports
Well-child exams
Immunizations for children and adults including shots for influenza, pneumonia, hepatitis A and B and shingles
Women's health including pregnancy tests and pap tests
Blood pressure screenings, TB testing, tetanus shots, STD testing
Dental care for children and adults
Counseling services and treatment for all ages
Tobacco cessation treatment
Nutrition counseling
Substance use treatment - both counseling and support groups
Transportation

Remember to bring these items with you to any appointment. 
If you are in need of our services, we would love to talk with you. We work with everyone—from infants to the very oldest in our community. 
Our partnership with Knox Public Health and the experience you have at each of our center locations is something we take seriously - providing optimal health and a safe environment for all. Call us at 740-399-8008 to begin your journey with us. 
To celebrate all that our community means to us, we are hosting a special Health Center Week Pool Party at the Hiawatha Water Park. The event is FREE to attend and will have lost of fun activities and prizes for all ages. We hope to see you and your family there!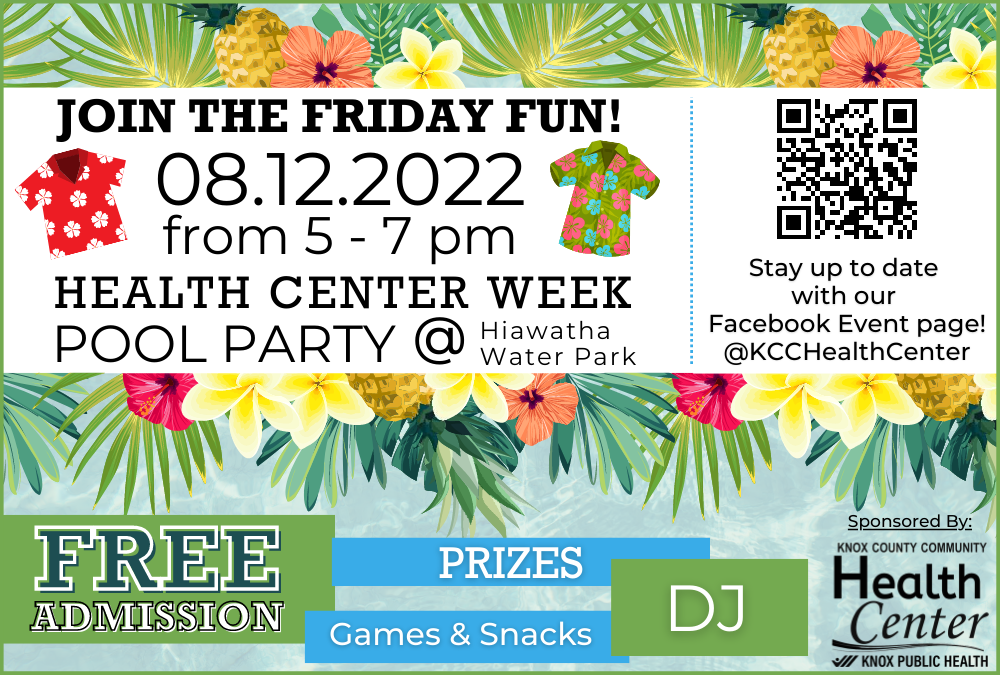 Make sure to stay up-to-date with details by following our event page on Facebook: HERE